Zac's Place 'One More Mile' Just Giving Campaign
Zac's Place is raising support to assist with sustaining its well established work in Swansea into the next generation. This includes making provision for additional staff and volunteers, and also significant improvements to our city centre HQ.
Over the years Zac's Place has earned a reputation for providing grass roots essential support to many vulnerable people in Swansea. These maybe those who are sleeping rough, in emergency B&B accommodation, or without a safe place to call home, those in food poverty and those who are seeking a safe space from the traumas that they are experiencing. We have been committed to working in partnership with others including housing and homeless support charities, addiction and recovery agencies, medical outreach teams, the local council, the DWP, the arts and a host of other local churches and volunteer groups.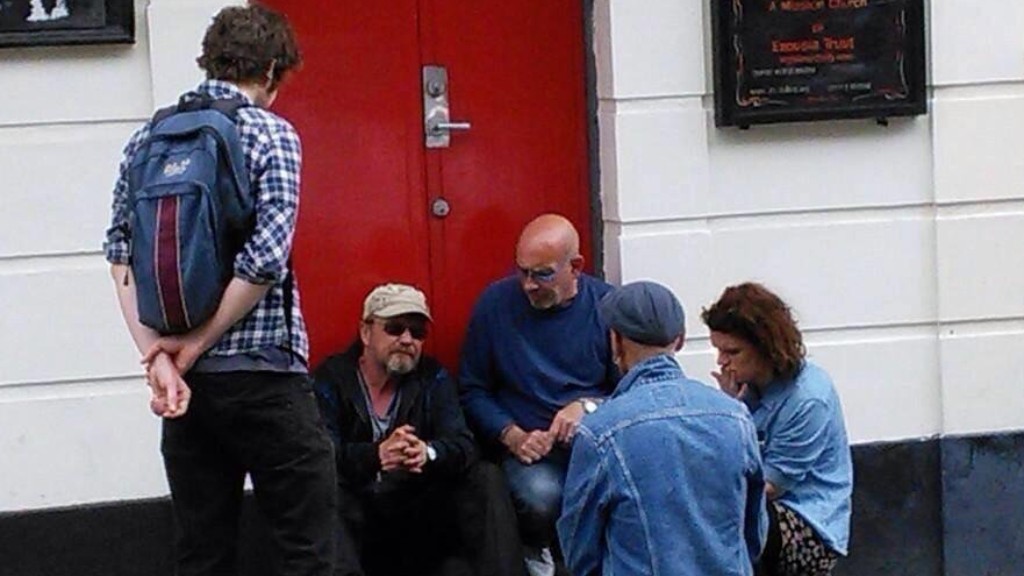 "The work going forward at Zacs Place is in every way innovative, courageous and important for the community in general as well as the Christian community. I have been privileged to watch the development of this initiative over several years and would want to pay the most sincere tribute to the dedication and vision of those who have been running it."
Rowan Williams, Former Archbishop of Canterbury.
Over the years we have learned to see the benefit of collaborative working, recognising that whilst our staffing resources have been limited, we do have a loyal and committed army of volunteers and a venue that we make available to partners such as the local Rough Sleepers Intervention Team. This fundraising campaign is being specifically aimed at us looking to the future. We are embarking on some essential repairs and upgrades on our Zac's Place premises in George Street, which will include expansive work and layout modifications to enable our space to be more functional for the next season of use. This will notably include a new much larger commercial grade kitchen, which will be welcome addition considering the thousands of meals we have produced from our tiny present kitchen space. It will also include an internal courtyard to give us some much needed usable outdoor space on our plot.
In recent times our Zac's Place founder, Sean Stillman, completed some academic research and reflection on the first two decades of Zac's Place, to ask whether there is life in who we are and what we do as both a church community and in grass roots pro-active care for those in our wider community who need to know they are not forgotten.
The conclusion was that we believe there is plenty of life in what we have been doing and plenty of scope for more to come into the next generation of leaders, participants and beneficiaries. We have thrived on community support, volunteer time and donations, so this campaign is an opportunity for those who are interested in what we have been doing and what we intend to maintain doing and develop further, to contribute in whatever way you can.
Why 'One More Mile'?
Many of us will be familiar with the phrase, 'going the extra mile' and that is something we have always tried to do at Zac's Place. The phrase finds its origins in the teaching of Jesus and was originally seen as a very subversive act of humble service in response to an oppressive empire. Going that extra mile, doing something out of generosity of spirit with meekness and humility, not because you have been brow beaten, but because you choose to, was counter-cultural and spoke volumes. Over the years we have repeatedly seen so much love, care, kindness from not just our volunteers and crew, but also from within the community we serve when it has not always been easy to do so. It is exactly this preparedness to go the extra mile that makes an ongoing difference, day in day out.
"For some people Zacs Place is the only safe haven in their lives. Here they find help, the love and support of others and, importantly, acceptance of who they are and the life that they are leading. It may not seem much, but for many, it is a lifeline."
Janet Keauffling, NHS Nurse for the Homeless and Vulnerable Adults
Another reason we are calling this campaign 'One More Mile' is grounded in the fact that many of our guests and friends over the years have lived with the ongoing trauma and reality of surviving one day at a time. It can literally feel like, 'if I can just do one more day, one more mile...'. We have seen immense strength of character, incredibly stoic attitudes and resourcefulness to simply just survive another day. Of course we have also seen the harsh reality of what that survival looks like in seeking relief from multiple traumas in a lifetime of struggle.
So as we commit to gearing up to see our vision look to a future of ongoing service, care and advocacy, as we depend on our crew to keep going the extra mile, as we continue to be inspired by the strength of fragile lives that don't want to give up, we want to ask you as our friends and supporters if you'd like to go one more mile with us? Would you consider a donation, or how about a sponsored activity?
What could you do that you thought you might never do again? Or what might you try for the first time? Be creative and do something that will not just raise some support, but will also make you glad you went one more mile in sponsoring our efforts at Zacs Place.
Thanks for taking the time to read this far and for considering getting behind our campaign. If you would like to contribute to it directly or set up your own fundraiser you can do so HERE or by clicking the Just Giving logo below.